—Information accurate as of: build devblog 184
The Research Table is used to create Blueprints by using Scrap and the item to make the blueprint of, which means one has to find the desired item first.
Research tables can be found in Monuments as well as crafted for your base.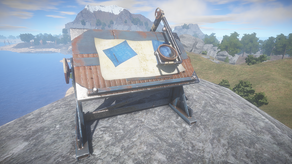 Locations
List may be incomplete
Airfield: In the tower building, in a separate room on the main floor.
Industrial Train Yard: There is not one in trainyard.
Power Plant: On the second floor of a big central building next to the inner water reservoir, right next to a Recycler.
Satellite Dish Array: Inside the socket of the more intact of the two standing dishes, soft wall needs to be broken.
Abandoned Supermarket
Outpost inside the metal fence adjacent to the recycler
Military Tunnel near the cave entry.
Launch Site inside the Cobalt Offices
Crafting
A Research Table can be crafted in 60 seconds, requiring a Work Bench Level 1 and:
Researching
To create a Blueprint, put one of the desired item in the upper slot - more than one item doesn't work. The required amount of scrap will display after, and is put in the lower slot - using less scrap will not work. If those criteria are met, the "Research" button will turn clickable. After clicking it, both slots will be blocked during the process. Once it's completed, the blueprint will appear in the upper slot.
Researching takes 10 seconds and uses only the required amount of scrap, leaving the rest in the lower slot. The durability of the item does not play a role, as long as it is not broken, in which case the researching won't work.
After researching an item, it will be replaced with the blueprint and is destroyed.
A list of researchable items is shown below. (Needs completion!)
Build
Items
Resources
Clothing
Tools
Medical
Weapons
Ammunition
Traps
Misc
Trivia
Researching will continue if you close the table's interface during the process. Items can be stored in the slots of the research table.
The sound that plays when researching an item can be heard by anyone nearby.
Research tables were originally implemented for Blueprint System. The table was then removed from crafting and re-introduced in devblog 158 with the introduction of Scrap with a different purpose. However, as of devblog 180, the Research Table is once again used for blueprints.