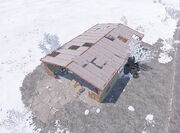 The Mining Outpost is a type of Monument found on procedurally generated maps in Experimental Rust. It is one of the few monuments that doesn't have any radiation (the other two being the Harbor and the Lighthouse).
Layout
The Mining Outpost is a single-story, ground level storage facility with a slanted roof and open entrances on either side.
On the inside, one would find a forklift, a small office and wooden cargo crates stacked on both metal shelves and the floor.
Infrastructure
The Mining Outpost offers access to a Repair Bench and Recycler that can be found inside amongst the crates.
Loot
Generally, regular loot Barrels and Basic Crates spawn inside the Mining Outpost.
However, there is a little hut on the other end of the Mining Outpost, where you can find Military Crates.
Map
Gallery
Community content is available under
CC-BY-SA
unless otherwise noted.